Nihcara.com – If asked to choose one of the dozens of recommendations for the best project management software tools app, what do you expect to be in it?
There is no doubt that project management software helps you be more productive in managing your workflow.
How can we know? Because you can track tasks completed, time spent, and compare it to your performance over the long term.
With this project management software, communication between you and your co-workers will remain smooth without any problems. In this article, we'll recommend the best project management and productivity apps to help you work from home with ease. Happy reading!
The Best Project Management Software For Teams
The project management tools we recommend here start with chat apps for your office or company, then project management apps for managing tasks, and free communication apps for collaborating.
Here are our recommended project management software:
Slack
Rating: 4.7/5
Notable features: built-in audio and video calls, integration with other apps
Best suited for: teams and businesses of all sizes
Slack is one of the most widely used project management tools to support communication within a company or within a team.
In addition to having an instant messaging feature, this application also allows you to set the channel of the team or project being worked on into a public channel (which can be accessed by all members) or private (accessed only by certain members).
You can also pin messages or chats on your channel so that important information is stored in an easily accessible place.
With Slack, you can share image, document, and video files from your computer or Google Drive. You can also contact colleagues via audio and video calls and make presentations by using the screen sharing feature.
The app integrates with more than 2,200 apps, including Zapier, Dropbox, and Google Calendar to optimize your workflow.
Slack offers a free plan with limited features for small companies. For larger teams, premium plans start at $6.67/month per active user.
Progress
The first project management app we'll cover is Progress. From a visual perspective, this application seems to want to give a simple impression in monitoring project developments digitally.
If you only need an application to record task lists, checklists, and view the completion presentation, then you can try this one application.
Zoom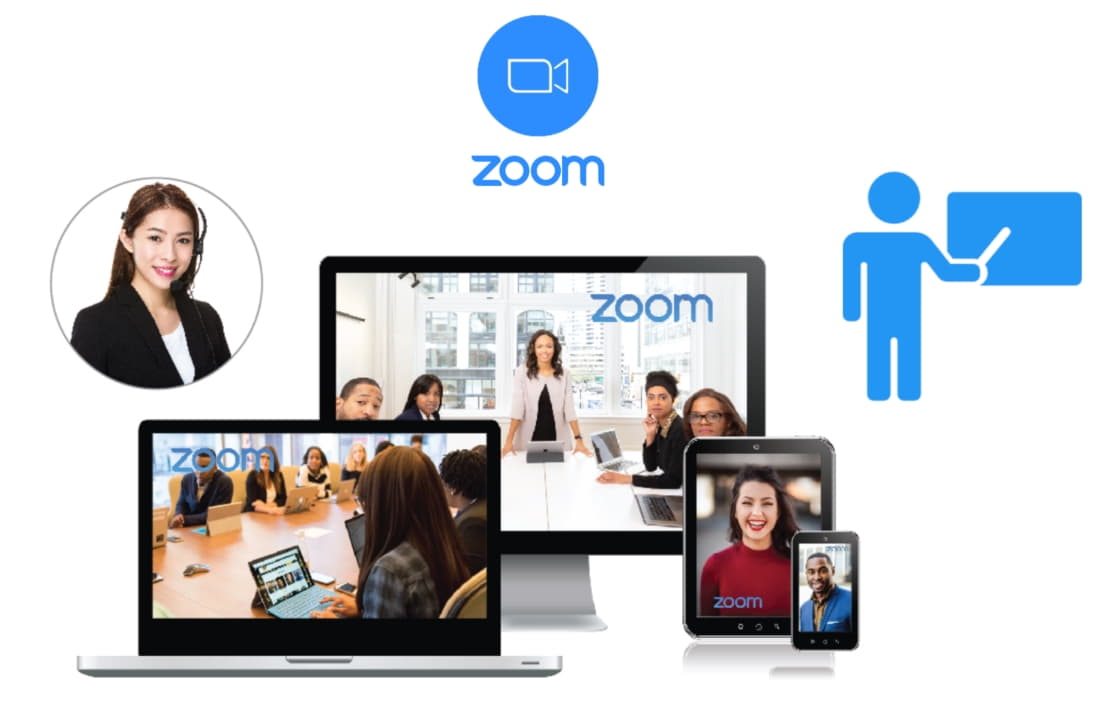 Rating: 4.6/5
Important features: screen sharing, chat on call
Best suited for: teams of all sizes
Zoom is a video conferencing platform that is really on the rise. This application provides several collaboration tools, such as meeting platforms, telephone systems, webinar platforms, and video conferencing systems.
The platform guarantees user privacy with a code added to the meeting. There is also a Waiting Room feature that allows meeting organizers to receive participants when the session starts.
The free plan limits calls to 100 participants for 40 minutes. To increase the duration and list of participants, you will need to upgrade to the premium plan, which is available starting at $149.90/year.
Microsoft Teams
Rating: 4.4/5
Key features: real-time collaboration
Best suited for: small and medium businesses
Microsoft Teams is a team collaboration app that lets you video calls, chat, and edit files together, all from one place.
With the free package of this application, you can make video calls for 60 minutes with a maximum of 100 participants. In addition, Microsoft Teams also offers meeting scheduling, background change, and screen sharing for presentations.
Microsoft Teams provides 10 GB of storage space for teams and 2 GB per chat.
To record meetings and increase storage space, you need to upgrade to a premium plan. Pricing for this plan starts at $5/month per user.
TypeTalk
Notable features: integration with Nulab apps
Best suited for: small and medium-sized teams
TypeTalk is a team chat app that offers integration with other productivity apps from the Nulab network.
This application can be used in conjunction with Cacoo, which is a cloud-based diagramming application, and Backlog, which is a project management application. So you can get Cacoo and Backlog notifications, discuss Cacoo diagrams, and create Backlog issues in TypeTalk.
In addition, TypeTalk offers an open API and Webhook for automation and integration with other software. However, you need to do advanced customization for the function to work.
The free version of this project management app limits the number of users to 10, and with 1 GB of storage space. The premium version starts at $10/month for five users and offers 50 GB of storage space.
This app is available for Android, iOS mobile devices, and Windows & Mac computers.
Flock
Rating: 4.5/5
Important feature: public messaging channel
Best suited for: small and medium teams
Flock is an online chat application and team collaboration tool that provides unlimited 1:1 private and group chat messages.
In addition, the app allows your team to create up to 10 public messaging channels.
Flock also has a built-in video conferencing feature, but if you're on the free plan, it's only available for 1:1 calls.
If your team has more than 20 members or needs more collaboration features, you will need to purchase the premium plan. Flock Pro is available for $4.50/month per user.
Trello
Rating: 4.5/5
Important features: User-friendly UI, task automation
Best suited for: visual project management
As a project management application and collaboration tool, Trello is one of the best solutions. The system itself is based on a list of task cards placed on a board. Its drag-and-drop feature makes managing tasks easier.
You can invite coworkers to access the board via username, email, or by providing an invite link. There are several options for setting board access permissions – private, team, organization, and public. You can also change the Trello board background and color.
Trello cards can be assigned to team members, labeled, and have checklists, deadlines, and attachments. Even cooler, you can also add power-ups or add-ons, such as Dropbox, Google Drive, Slack, and others.
With the free version of Trello, project managers can create up to 10 boards and automate 50 processes per month.
To access additional tools, you can purchase the premium plan for $10/month per user. Trello also offers mobile apps for iOS and Android.
Asana
Rating: 4.4/5
Important features: automation, display options
Best suited for: project collaboration
Asana is one of the most widely used project management applications for collaboration and collaboration. This tool comes in a visually appealing interface and is available in a premium but free version. There is also a drag-and-drop feature to make your work easier.
To visualize the progress of projects and teams, you can choose from six options: board, list, timeline, progress, forms, and calendar, which help sort data quickly and identify potential issues.
With Asana, you can create automated rules to optimize your company's task management processes. You can also create standard checklists, for example for employee orientation and event planning.
The free plan does not limit the number of projects, but members are limited to 15 people. If you have more employees, you'll need to purchase a premium plan starting at $10.99/month per user.
Wrike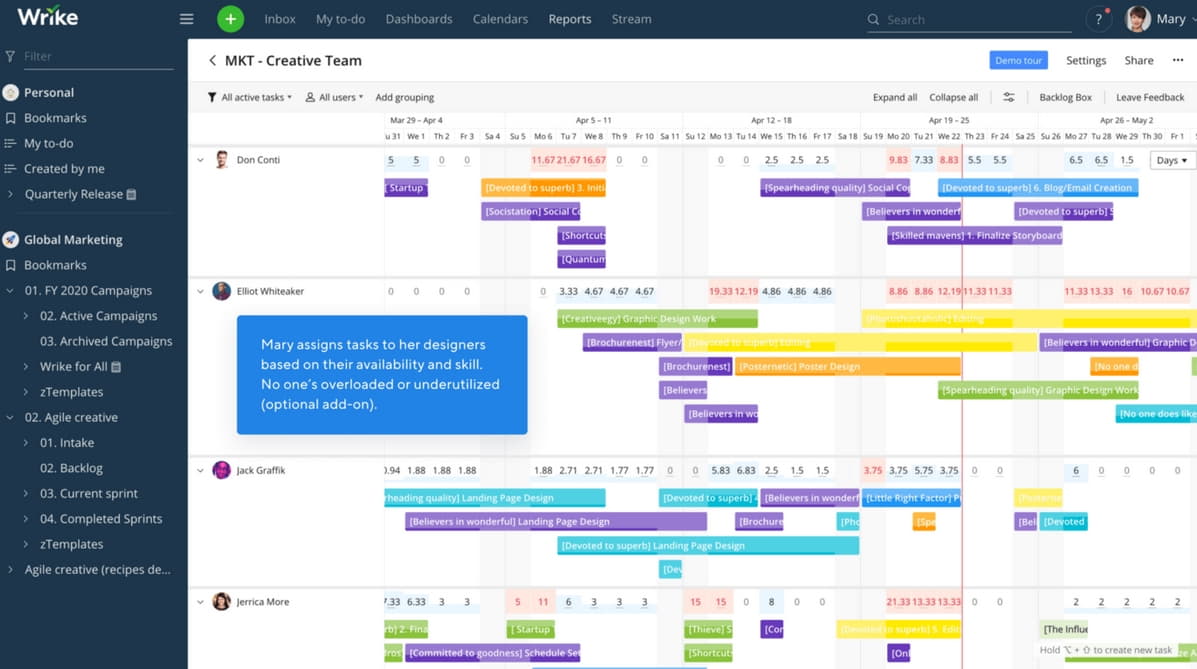 Rating: 4.2/5
Notable features: cloud storage integration
Best suited for: real-time collaboration
Wrike is a project management application that provides Kanban board views and real-time activity updates.
The board provided by this application allows you to use drag-and-drop to simplify the task management process. Wrike also uses cloud storage services like Google Drive, Dropbox, and OneDrive, ensuring your data is always kept safe.
The free version allows up to 5 users and comes with 2 GB of storage space. To collaborate with more employees and access more tools, you'll need to upgrade to a premium plan, starting at $9.80/month per user.
Airtable
Rating: 4.7/5
Important features: User-friendly UI
Best suited for: database management
Airtable is an online database platform designed to create and store data using an easy-to-use interface.
This platform allows you to create and manage information about your employees, inventory, product database, and more.
In addition, you can easily link data and sort it as you wish, and then present it in calendar, Kanban, gallery, or grid spreadsheet views.
Airtable's free plan lets you store an unlimited number of databases, with 2 GB of file storage space and 1,200 records per database. The premium plan price starts at $10/month per user.
Zapier
Rating: 4.7/5
Important features: easy to use, compatible with other software/applications
Best suited for: process automation
Zapier lets you automate repetitive tasks between two or more apps without relying on coding or hiring a developer.
It is very easy to create an automated process or what is called a Zap. Just specify what event will trigger the process and what task should be done next.
For example, when you receive an email that includes an additional attachment, Zapier will automatically download the file to your Dropbox account. You can also integrate it with Trello or Slack.
This productivity app's free plan lets you create 5 single-step Zaps, with a limit of 100 tasks per month. Now, what is meant by single-step is when one workflow will interact with a maximum of two applications.
If you need multi-step integration and more Zaps or additional tasks per month, try the premium plan starting at $19.99/month.
Miro
Rating: 4.7/5
Key features: real-time collaboration
Best suited for: brainstorming and planning
Miro is an online whiteboard app for developing ideas and creating business strategies with your team.
All team members can write, draw, and edit one online whiteboard at the same time. This app lets you see what your coworkers are doing, and communicate with them via chat and comments.
The free version of Miro offers three editable boards, allows unlimited number of users, and core integration with apps like Slack, Microsoft Teams, and Dropbox.
To use more features, you can try the premium plans which are available starting at $8/month per user.
Monday
Confused about choosing the right template to manage each to-do list according to your project type? Maybe you can take a look at the offer from Monday.
This one application offers more than 200 workflows that may suit your project workspace. So, you no longer need to worry about the shape or design of the board, ideally what your project will look like with this application.
It doesn't just stop there, Monday can also be integrated with other platforms such as Gmail or Ms Office if you need this at any time.
Samepage
Rating: 4.8/5
Key features: collaboration tools with various features
Best suited for: project management and team communication
Samepage is a project management tool in the form of a collaboration application that integrates team communication, project management, meetings, and real-time document collaboration on one platform. So you no longer need to use multiple apps and go back and forth between them.
This project management app also uses Kanban boards for task management. You can monitor project progress, and set tasks and deadlines so that no tasks are left behind.
With Samepage, you can create and edit meeting agendas for video conferencing. You can also manage tasks and projects in real-time with all conference participants.
The free version of Samepage comes with 2 GB of storage space and a number of important features, such as task management and document collaboration. Its premium plan, which is available at prices starting at $7.50/month per license, provides an additional 1 TB of storage.
Conclusion
Project management software tools, project management applications, and collaboration tools all share one goal: improve business workflow efficiency and increase productivity. However, with so many options available, it's important that you choose the productivity application that best suits your needs.
Two of our recommended project management applications are Slack and Zoom if you need collaboration tools that feature screen sharing, chat, and video calls.
For project managers, Samepage and Smartsheet include task and progress tracking features so that no tasks are missed.
However, if you need more complete features, you may be able to use more than one project management tool. So, you can later be more flexible when managing tasks and this can also increase the efficiency of team communication. For example, Slack and Miro provide integration with other tools to keep your workflow on track.
Well, if you have further questions or suggestions, don't hesitate to leave a comment in the column below. Good luck!